Pixhawk2.4.8 & Pixhawk PRO with Mission Planner
Tutorial steps
1.Interface description and Connection
4.Connect Mission Planner to pixhawk
8.How to calibrate 3DR Power Module
9.How to Connect ESCs and Motors
Note
please read below before using pixhawk!!!
1.if you connect your pixhawk to Mission planner,Do not click BootLoader Update Button, Updating bootloader incorrectly will brick your pixhawk or cannot upload firmware .Now the latest Bootloader maybe has bug, we had upload the stable bootloader, you do not update now.You can press Disconnect button to update firmware(fox example arducopter or arduPlane) as you want.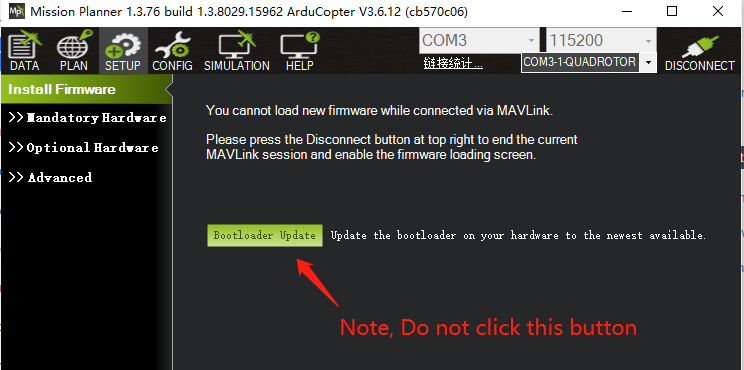 if you update bootloader incorrectly to cause pixhawk fail to boot or cannot upload firmware,please read here,
http://pix.rctoysky.com/how-to-update-bootloader-for-pixhawk-with-sd-card.html
if you upload 4.2.2 version firmware, can not show flight mode, This is because the version of Mission Planner has bug(for example 1.3.77). Please try to use the 1.3.74 version of the mission planner.
download 1.3.74 from here,https://firmware.ap.ardupilot.org/Tools/MissionPlanner/archive/MissionPlanner-1.3.74.msi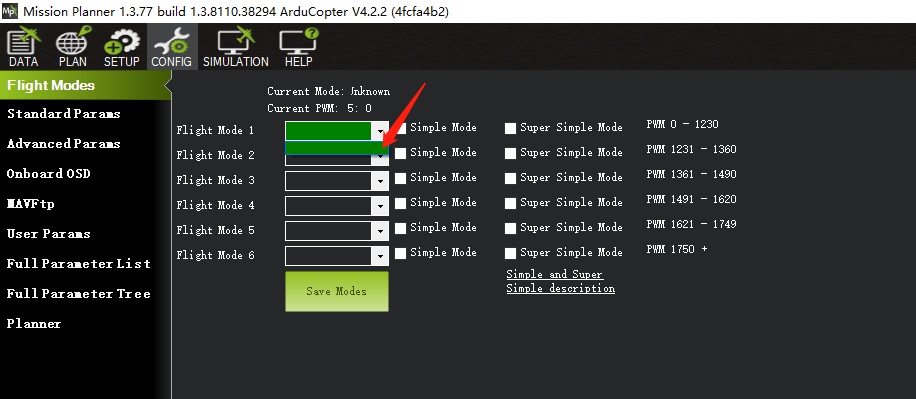 2.IF you want to upload firmware using legacy way ,you may be asked "Is this a CubeBalck?"Remember to click "NO".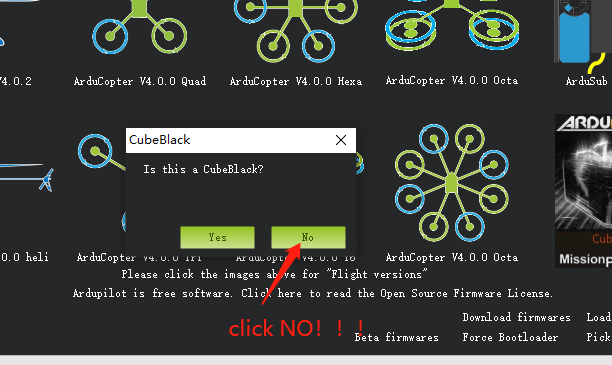 3. If want to upload firmeare, upload FMUV3 firmware, do not select other.

4.Make sure you download the latest version Mission planner,Some people use the old versions, resulting in incompatibility with the new firmware of ardupilot, so before using, please make sure to download the latest mission planner.
The latest version you can download from here:http://firmware.ap.ardupilot.org/Tools/MissionPlanner/

Pixhawk Overview
Specifications
Processor

32-bit ARM Cortex M4 core with FPU
168 Mhz/256 KB RAM/2 MB Flash
32-bit failsafe co-processor

Sensors

MPU6000 as main accel and gyro
ST Micro 16-bit gyroscope
ST Micro 14-bit accelerometer/compass (magnetometer)
MEAS barometer

Power

Ideal diode controller with automatic failover
Servo rail high-power (7 V) and high-current ready
All peripheral outputs over-current protected, all inputs ESD protected

Interfaces

5x UART serial ports, 1 high-power capable, 2 with HW flow control
Spektrum DSM/DSM2/DSM-X Satellite input
Futaba S.BUS input (output not yet implemented)
PPM sum signal
RSSI (PWM or voltage) input
I2C, SPI, 2x CAN, USB
3.3V and 6.6V ADC inputs

Dimensions

Weight 38 g (1.3 oz)
Width 50 mm (2.0")
Height 15.5 mm (.6")
Length 81.5 mm (3.2")
Interface Diagram